2019-100 #120mm #monolake https://t.co/dQZG2WXM2A
"Mono Lake, Lee Vining USA,. From u/Jakob_LR on Reddit #leeviningusa #monolake"
Twitter feed video.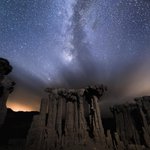 06/02/2019 - Oh, what a "beau-tufa" day! #tufa #MonoLake #MonoLakePark #MonoLakeTufaStateNaturalReserve #MonoCounty #California @ Mono Lake Tufa State Natural Reserve https://t.co/MEkJIEz14q
Mono Craters and the southern shore of Mono Lake, CA. https://t.co/gINpJrv2IY #monolake https://t.co/tyLvAsvGPb
Sunrise over the tuffas in Mono Lake was a great moment with unexpected rewards, including this awesome moonset behind the Sierras - or behind this stack.

#sunrise #moonset @MonoLakeCmte #monolake #tuffas
Twitter feed video.
Load More...